We're hiring!
Callan Institute are looking for a Behaviour Specialist to join the team for a 2 year specified purpose post. Closing date for applications is Friday 8th August 2014.
Read More
Interested in Volunteering with us?
Each year Callan Institute provides a work experience, volunteer opportunity. This opportunity is available to an individual who has; completed a Masters Degree in an area relevant to the work of Callan Institute; has an interest in a specific aspect of the work of Callan Institute; and can commit to a work experience placement one day a week for a minimum of 6 months.
Read More
Parents Resources on Identity, Friendships, Relationships & Sexuality.
These resources are designed to provide Parents with the information, confidence and skills to talk about growing up, relationships and sexuality to their children, teenagers and young adults with intellectual disabilities.
Read More
Callan Facebook Page Launched
Callan Institute has just launched a new Facebook page. Keep up to date with events, tips and resources by visiting and liking us.
Read More
Positive Behaviour Support for Children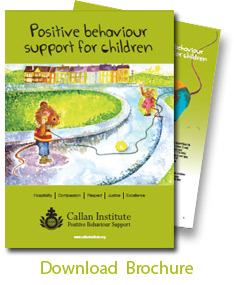 Do you want to know more about how to support a child with difficult situations? Our new leaflet is now available to explain how. Click to download a copy.
Read More
Art Competition
Callan Institute holds an art competition on an annual basis with the winner receiving a money prize and having the opportunity...
Read More
RUA: Relationship & Sexuality Upcoming Training
RUA Raising Understanding and Awareness about Ones Self, Friendships, Relationships and Sexuality.
Read More
E-Learning course on Positive Behaviour Support
We are delighted to announce the launch of our E-Learning course on Positive Behaviour Support, the Multi Element...
Read More