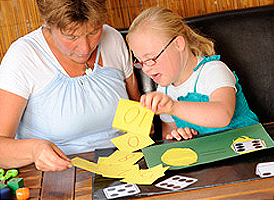 Information for families
What is Multi-Element Behaviour Support?
Multi-Element Behaviour Support is an approach that acknowledges the idea that difficult behaviour is a language used by people who have no other way to relay their message.
The behaviour becomes unnecessary when the behaviour finds a voice.
Did you know?
Problem Behaviour is a sign that something is wrong, or that something is not going right. It is a form of communication.

There is always a reason for a problem behaviour.

The most effective way of trying to 'stop' a problem behaviour is to find out why the person is doing the behaviour in the first place.

A problem behaviour is best supported using a variety of supports, including learning new ways to communicate.

Problem behaviour can become redundant with support, not punishment.
A series of 3-1/2 Day Workshops on 'Positive Behaviour Support for children'
Our Parents Workshop in Positive Behaviour Support is designed to help you understand what may be behind your child's behavioural difficulties. It will help you ask the right questions so we can figure out why the behaviour might be happening, and to find out 'What's the Message?' behind it. When we know what the message of the behaviour is, we can start to think about supportive and positive ways to meet the child's needs, so that they no longer need to use their behaviour to express themselves.

Over the course of three mornings, we will look at ·

Ways to find out 'What's' the Message' behind behaviours that challenge.
·

New ways to support children in expressing their needs, and solving day-to-day problems
·

How to cope with difficult times when behaviours occur.


The course will be run over three mornings from 10am – 1pm:

Dates for 2017 / 2018 will be posted later.


Children and Positive Behaviour Support
In line with Callan Institute's commitment to providing support that can be incorporated into a persons life, using natural resources wherever possible, a leaflet has been prepared to explain Multi-Element Behaviour Support to parents and carers of children. The aim of this publication it to increase awareness about MEBS, and to equip families with a positive way to think about behavioural whispers that may arise. Please click on the download link below to download a copy.